Hand protection is one of the most essential forms of personal protective gear (PPE). There are many types of gloves, each one best suited to protect in certain environments.
Vinyl gloves can be an affordable option for PPE. However, they cannot replace latex or Nitrile but might be better suited for low-risk situations. Hebei Shouzheng has a range of PPE products including vinyl, latex, nitrile, and vinyl gloves.
Vinyl Gloves and Comfort
Vinyl gloves are less flexible and elastic than latex. This means they don't fit well and become uncomfortable after prolonged use. Vinyl gloves are also less sensitive than latex gloves, and some studies show that vinyl gloves have lower tactile sensitivity than latex gloves made of natural rubber latex.
Due to the decreased flexibility and sensitivity, many guidelines recommend latex gloves or nitrile gloves in clinical care. These gloves are recommended for procedures that require manual dexterity and/or involve prolonged patient contact.
Can Vinyl Gloves Be Used for Medical?
Yes. Powder Free Vinyl Gloves are the best for medical use. Vinyl medical gloves are less expensive than latex and nitrile but offer a more comfortable fit. This glove is a great option for people who have to change their gloves often and are allergic to latex. These gloves are ideal for short tasks and provide good protection against chemicals as well as biological fluids.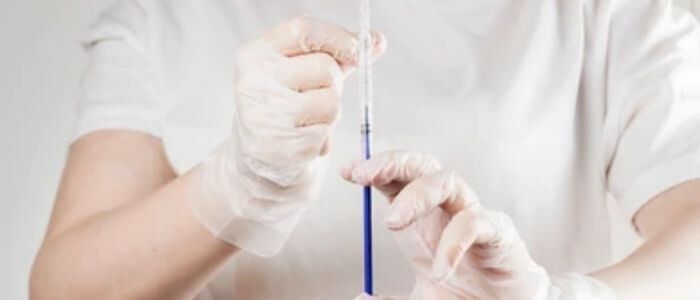 Choose Powder Free Vinyl Gloves
Vinyl gloves can be used in many different household and commercial applications. They have been around for decades and are still a very popular type of disposable safety glove. Vinyl gloves are generally cheaper than their latex and nitrile counterparts. They are also a great everyday glove solution for workplaces that require regular donning or removal.
Hebei Shouzheng manufactures a variety of powdered and non-powder glove options to suit all kinds of applications. Powder-free vinyl gloves are versatile and comfortable. They also protect against many of the most common workplace and home hazards. This article will explain the many benefits of powder-free vinyl gloves as well as their use.
Are all vinyl gloves powder free?
Although powder has been less common in glove manufacturing in recent years, many manufacturers offer non-powdered and powdered varieties of vinyl gloves.
Powder coatings in disposable gloves are usually cornstarch and are designed to make it easier to put on the gloves. This reduces the chance of them tearing. The powdered cornstarch used in gloves can pose a danger to workplaces. It can carry airborne particles, cause contamination and irritation to workers' and others around their airways.
The HBSOSUN range of vinyl gloves is designed to eliminate powder contamination and make it easy to put on and take off.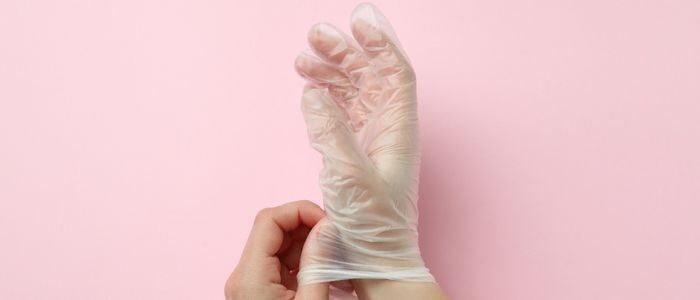 Why you should choose powder free vinyl gloves?
Vinyl gloves are made from PVC (polyvinylchloride), a disposable plastic glove that is often cheaper than latex or Nitrile alternatives. Vinyl gloves are waterproof and can withstand a variety of low-level chemicals like detergents and other cleaning products. They provide protection from some of the most common industrial and household hazards.
Vinyl gloves are more susceptible to puncturing and tearing than latex gloves or nitrile gloves. However, they still have a significant role in many workplaces. They are especially useful in those roles that require regular removal and replacement, such as food preparation, processing, handling, and cleaning. Vinyl gloves by Hebei Shouzheng have been tested to EN1186, which means they can be used with any food type. However, it is important to note that they cannot be exposed to oil and fatty foods for long periods of time. They are also free from latex, so they are suitable for those who are allergic to latex.
Many workplaces love the comfort and ease that powdered gloves offer, despite the potential dangers. Hebei Shouzheng has created a unique vinyl range that is free of latex, chemical accelerators, and most importantly, free from powder. Our vinyl range is polymer coated to make it easier to donning and removing and for more comfort.
What are powder free vinyl gloves used for?
Because of their versatility and low cost, powder-free vinyl gloves are often used in commercial and household applications. Vinyl gloves are safer than nitrile gloves, but they can be used in situations where stronger chemicals pose a danger. They are used in the following:
Printing and painting
Care homework
Veterinary practices
Dentistry and dental health
Janitorial and cleaning work
Food processing and handling
Manufacturing and assembly
Work by local authorities
Vinyl gloves are a great, low-cost option for everyday, low-risk tasks. Our clients get the added benefit of powder-free vinyl gloves that are easy to wear and powder-free.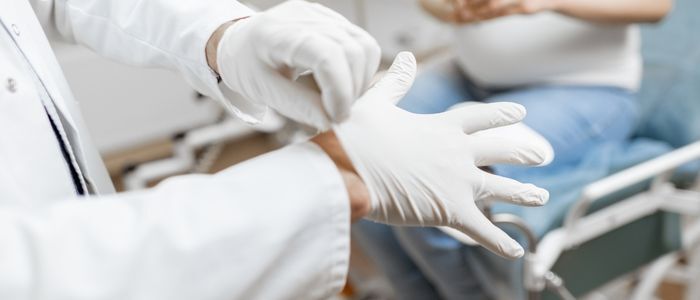 Hebei Shouzheng powder free vinyl gloves
Vinyl gloves are free of powder and chemical accelerators. This can't cause irritation and sensitization in some wearers. Vinyl gloves are extremely comfortable and provide a safe environment for users.
These gloves can be used in medical, dental, and veterinary applications. They are a versatile disposable safety glove solution. Our vinyl gloves offer a better fit and increased strength and tear resistance thanks to their tapered wrists. Vinyl gloves come in many colors, including clear, blue and red, as well as green and yellow. Stretch versions of vinyl gloves are also available. These offer extra flexibility for form-fitting comfort.
Hebei Shouzheng has been manufacturing disposable safety gloves for many years. As the dangers posed by powder particles has become more well-known, traditional powdered gloves are less popular. We have a variety of powdered and non-powder solutions to provide our clients with the best safety gloves for any application.
What gloves are better than vinyl gloves in the medical industry?
Nitrile gloves are superior to vinyl gloves in the medical field. Nitrile gloves have a higher quality than vinyl gloves and can be used without powdering. Vinyl gloves are more likely to be damaged or broken than nitrile gloves, so nitrile offers better protection.
Benefits of Nitrile Gloves
Consider the following benefits of Nitrile Gloves when deciding what PPE you need for your facility.
Natural rubber latex allergies, which can be experienced by almost 10% of healthcare workers, and 7% of patients at risk, are much more common than nitrile allergies. According to the National Center for Biotechnology Information, (NCBI), nitrile allergies are extremely rare. It is possible to delay a procedure by taking allergy tests in an emergency. Avoiding accidental allergic reactions by using nitrile gloves
Nitrile rubber is more puncture-resistant than vinyl gloves or natural rubber. Nitrile gloves can be used in many different applications. This material is excellent for surgical gloves, medical examination gloves, and to protect against the contamination of hazardous materials like chemotherapy drugs. The versatility and strength inherent in nitrile make the gloves ideal for manufacturing and automotive work.
The shelf life of nitrile surgical gloves is longer than that of vinyl and latex varieties. This makes it possible for hospitals, healthcare facilities, dentists, and other organizations to stockpile surgical gloves, increasing their cost-effectiveness.
Powdered gloves can be used in industrial and food settings because they are easier to use. Powdered surgical gloves should not be used as they can cause serious health problems, such as inflammation of the airways and respiratory tracts.
To aid in the donning and doffing of surgical gloves made from nitrile, it is possible to chlorinate them.
For maximum tactile dexterity, surgical nitrile gloves should be carefully fitted to the wearer.
There are many colors available for nitrile gloves. While the glove's color does not determine its effectiveness, hospitals may use PPE color codes to indicate the intended use. Medical facilities might use blue nitrile gloves during surgery and orange for non-invasive procedures.
There are usually two thickness options for Nitrile surgical gloves: 4 and 8. The glove's thickness determines how tear-resistant and puncture-resistant it will be. Thicker gloves offer greater flexibility and dexterity. It all comes down to the preference of the surgeon team.
What do Nitrile Gloves protect against?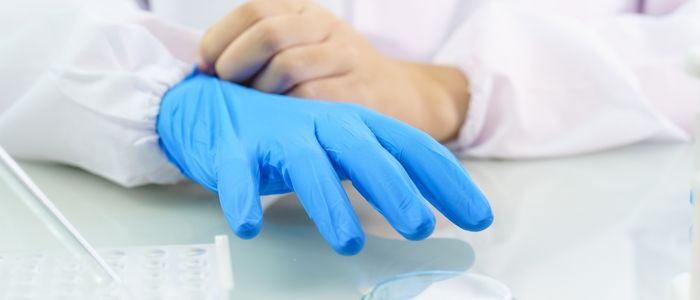 Nitrile gloves are resistant to physical hazards. They act as a physical barrier between the user and any potential danger. You can use disposable gloves made of nitrile to protect yourself from bacteria, viruses, and microorganisms as well as bio-hazards, dirt, chemicals, and dirt.
Conclusion:
Failure of an exam glove is dependent on how the glove feels during patient care activities. Vinyl gloves pose a number of problems for patients and end users in terms of protection.
Vinyl medical gloves are not as flexible as nitrile or latex gloves.
Vinyl gloves are relatively cost-effective and cheap
Medical nitrile gloves are effective against viruses and bacteria.
Vinyl has low resistance to many chemicals
Vinyl gloves have a low chance of skin allergy