Vinyl Gloves
Vinyl gloves are the most widely used material to make gloves for food and hospitality. They offer a high level of protection. Vinyl gloves are the most affordable option and are free of latex, so they are suitable for those with allergies.
Because they are not chemically resistant, this material is not suitable for hazardous materials handling. They are used in low-risk situations, such as food preparation, because of their cost-effectiveness. Vinyl gloves are versatile but they tend to be thicker than others, which reduces their flexibility.
Vinyl gloves are a long-standing favorite in the food industry. Vinyl gloves are thin and ideal for delicate work, where touch is important. Puncture risk is also minimal. Vinyl gloves can be brightly colored, which is why they are ideal for the food service industry. The blue contrasts with the food's colors.
Uses: Vinyl gloves are great for food preparation, catering, and more. You can also use them to change gloves often to prevent contamination.
Benefits: Vinyl gloves are less prone to allergic reactions and have a looser fit. These gloves are great for low-risk, short-term tasks. They're also the most cost-effective option.
Industries: Food service, cleaning and restaurants, as well as light industrial workplaces.
Can vinyl gloves be used for food prep?
Vinyl, latex and nitrile are all suitable materials for food prep gloves. These gloves are very tactile and puncture-resistant. Powder-free white latex gloves are suitable for single-use tasks in food service. Vinyl gloves that are powder-free can also be used for single uses.
Vinyl gloves can often be found in a blue color to aid color-coding and prevent food contamination. Blue vinyl gloves can be used to cut/prepare raw meats, prepare seafood, grind meats and trim produce. After handling raw meats, poultry, and seafood, change your gloves and wash your hands.
Can you handle meat with vinyl gloves?
Only two requirements apply: the glove must comply with FDA regulations, and it must contain "Substances generally accepted as safe for food or packaging."
Are medical-grade vinyl gloves safe? Material-wise, vinyl, latex, vinyl, nitrile and neoprene are the best materials for food prep gloves. Latex allergies can be a problem if you use it.
The Advantages and Drawbacks of Vinyl Gloves
Vinyl gloves offer many benefits, including:
These gloves are an excellent option for restaurant and food business owners who wish to cut down on the cost of their gloves.
Highly resistant to oils, fats and other toxic substances
They are anti-static which makes them more versatile
They are hypoallergenic which means that they don't contain any latex.
Lightweight and disposable
They can be applied easily because they are lightweight-pulled.
The main drawbacks to using vinyl gloves are:
They are less durable and more flexible than other materials, such as nitrile.
Low levels of protection against chemicals and biomedical substances
Sensitiveness to punctures increases the risk for contamination
The integrity and protection of your glove can be compromised by overstretching it.
Nitrile gloves provide a lower level protection than nitrile gloves.
It is less elastic and looser fitting than Nitrile. This makes complex tasks more difficult.
ALTERNATIVES TO VINYL GLOVES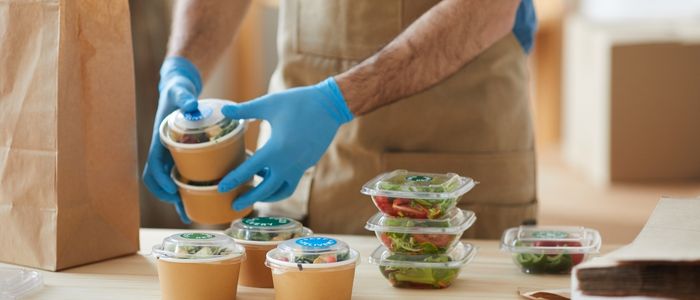 For multiple reasons, nitrile gloves are the best for food preparation. It fits comfortably on the hand and gives the user the best view of the food they are handling. This glove is comfortable and prevents bacteria and sweat from leaking. It also has the lowest failure rate of all three options.
Vinyl gloves can be replaced by nitrile gloves at a fraction of the cost. They are extremely flexible and have high tensile strengths. Not to be overlooked is the fact that nitrile gloves these days are extremely similar in cost.
We are happy to discuss your decision to continue using vinyl gloves after reading this article. Our goal is to provide information that helps customers make the right decision for their business. We also want to replace vinyl gloves with better products to benefit customers, businesses and the entire world.
Nitrile Gloves
Nitrile can be described as a type of nitrile rubber. It is flexible and durable and has strong chemical resistance. This makes it ideal for making food-safe gloves. Nitrile gloves can be used in many industries including science, healthcare, industry, and food. When it comes to food processing tasks, nitrile gloves are stronger than vinyl. This makes them a popular choice in the food service sector.
Another main characteristic of nitrile gloves is that they are produced using a synthetic rubber (acrylonitrile-butadiene) material, which gives them a higher level of tactile sensitivity. They should be capable of performing precise food handling tasks. They are also more resistant to puncture which decreases the risk of contamination from bare hands.
Uses: These are used most often by people in the medical and food industries.
Benefits: Nitrile gloves are latex-free, puncture resistant, and mold to your hands for a perfect fit. These gloves can be worn for extended periods of time and are ideal for situations high-risk involving infectious material.
Industries: Cosmetics, workshops and garages.
People with latex allergies were the first to use nitrile gloves. They are latex-free, powder-free, and abrasion-resistant gloves. Nitrile gloves are puncture-resistant and provide protection.
Advantages and Disadvantages of Using Nitrile Gloves
One of the greatest advantages of using powdered or nitrile-powder free gloves are:
Resistant against oils and other fatty substances
Chemical resistance at high levels
Comparable to gloves similar in puncture resistance, these gloves have excellent puncture resistance
Excellent touch sensitivity allows for precise control
For those suffering from allergies, latex gloves are a great alternative to them
Comfortable fit
Products that are durable and flexible
Disposable and lightweight
It can be worn for many hours at once
Shelf life is long
Disadvantages of Using Nitrile Gloves
Nitrile gloves are safe for food. They are however more costly than vinyl and are difficult to dispose off in an eco-friendly manner.
Which Gloves Should You Choose?
Vinyl and nitrile are two of the most common types of gloves in the food industry. Both materials have their advantages and can prevent cross-contamination. Certain materials might be better suited for certain circumstances.
Disposable gloves should be worn often for food handling and preparation. According to the National Advisory Committee on Microbiological Criteria for Foods, handling food with bare hands can significantly increase the risk of foodborne disease transmission.
Infectious pathogens have low infective doses, meaning that even small amounts of food can make someone sick. Food-safe gloves reduce the risk of bacteria transmission by putting a barrier between potentially dangerous diseases and the food being handled.
Food safety is affected by the type of gloves you choose. Some disposable gloves are not food-grade, so you need to be cautious when using them for food preparation. Gloves can quickly become contaminated so it is important to know how to properly put on and take off gloves.
Do's and Don'ts
Food preparation should not include the use of powdered latex gloves.
I've seen disposable polyethylene gloves in food service. These gloves are cheap and easy to use, but they have very limited usage. Because of the glove's easy fit, sweat and bacteria can not be contained. Its most useful use is as a counter server, who requires a single-use protective barrier. This allows them to pick up the item and then immediately put it in their hands.
Food servers should only use plastic polyethylene gloves for one purpose.
Vinyl gloves were used in healthcare to replace latex gloves. These gloves are good as a protective barrier. The most concerning thing about them was their failure rate, which made me need to use double gloves for higher-risk examinations.
What do gloves prevent during food preparation?
Cross-contamination is an important function of disposable food handling gloves. Disposable food handling gloves reduce the chance of spreading disease and bacteria. These gloves can also be thrown away after use. It might be tempting to wonder what happens if gloves aren't worn while you prepare food. There's a greater risk of food contamination if there is no barrier between your hands, the food, and your hands. If you cut your skin and then touch the raw chicken with the same hand, bacteria can easily transfer to the chicken. This could lead to food poisoning and other illnesses by allowing harmful bacteria to grow on chicken. Disposable food handling gloves can eliminate this concern.
For High-Level Protection, Buy at Hebei Shouzheng
Hebei Shouzheng, located in China's Hebei Province near Beijing, is a leading manufacturer and wholesaler of disposable gloves. It is the leading manufacturer and wholesaler in North China of disposable gloves.
We are a manufacturer and distributor of Nitrile Gloves and Nitrile Blend Gloves. Vinyl gloves, Latex Gloves, PE Gloves, TPE Gloves. Products are exported to over 100 countries and regions, including America, Europe, Asia Africa, Oceania, Oceania, Oceania, Oceania, Oceania, Oceania, Oceania, Oceania, and many other European countries.
We also support customizing your logo specifications and packaging. It's easy to create your logo brand.
Shouzheng employs more than 40 production lines and produces 18,000,000 gloves each day.
It is important to only source gloves and protective equipment (PPE), from a trusted source. Hebei Shouzheng, a leader in quality materials for the retail, food, hospitality, and healthcare industries, is highly recommended. The FDA approves our products, which gives you assurance of quality.
You'll find the right glove for you in our extensive range of gloves.