Vinyl gloves are ideal for non-hazardous situations like coloring hair. But, the chemicals used to color hair could leak through, causing an allergic reaction to the skin. It is recommended to avoid this issue with nitrile gloves when you are prone to skin irritation.
We'll now discuss vinyl gloves and the significance of it. In this discussion you will be able to answer your "Can I use Vinyl Gloves to Dye Hair?" question will not be answered in a straightforward manner, but you'll also understand the advantages of using vinyl gloves and what are the most appropriate gloves to Dye Hair.
So, what is Vinyl?
Vinyl is a non-biodegradable synthetic material that is used for the production of gloves and is made of Polyvinyl Chloride (PVC). Nitrile gloves can also be made using synthetic materials, however, using PVC monomers in the manufacture of vinyl gloves is cost-effective.
Vinyl is infused with plasticizers during the process of making gloves, to make them elastic and soft. While vinyl is smooth and comfortable, however, its elasticity is lower in comparison to latex and nitrile.
They are, however, an ideal choice to deal with non-hazardous scenarios like cleaning, food contamination as well as hair coloring.
Are vinyl gloves toxic?
Vinyl, also known as PVC plastic, dominates the disposable glove market. pvc gloves are not toxic in their normal state, and only when heated at high temperatures do they decompose to produce toxic substances, which are toxic. Food grade pvc products are also not toxic in the high temperature state, which can be used with confidence.
Here are a few reasons why you should think about using vinyl:
Sturdiness
Vinyl is renowned because of its durability and resistance to scratches. It is produced so that it permits flexibility and stretch. The gloves are able to stand up against damage, holes and the effects of overstretching.
They are suitable in healthcare settings to shield hands from contamination. But, they may not be the best choice for tasks that require immediate attention like surgical procedures due to the possibility of breaking during pressure and long-term use.
There are various grades of gloves made of vinyl. If health and contamination are a concern then you should select the grade that is most suitable for the job that you have to complete. In particular, people who choose vinyl for medical applications must consider options that have 4 millimeter or more of thickness.
Designed for Various Industries
With these gloves, you're not restricted to just one option. After extensive research, manufacturers have developed a variety of different rubber gloves for different purposes.
Food service: Workers in food service businesses, like restaurants, catering, grocers, and food processing, can discover excellent options to handle food items.
Industrial use: Gloves that are designed for industrial usage require extra strength to withstand the various oils and chemicals. Machineries and manufacturing plants could benefit from the use of vinyl.
Medical gloves: Organizations dealing with elderly care, child care, and medical institutions will choose the right gloves which are durable and ideal for everyday use. For medical use examination grade gloves are generally suggested.
Cleaning services the gloves mentioned above are most frequently employed in janitorial and sanitation services. They offer extra protection against bacteria in order to prevent any growth of microorganisms.
Because of the anti-static properties, the gloves have, it is possible to make use of them while working with cables and wires.
This means you can select a solution that is suitable for your needs and your industry to ensure more efficiency and comfort.
Great Option for Those with Allergies
There are numerous confirmed reports that show that latex triggers specific allergic reactions in some individuals. Usually, symptoms occur within 5 minutes following exposure to products containing latex.
The signs that are present may include swelling, itching, and redness on the skin. The most severe sign is anaphylaxis. This is defined by breathing difficulties and a drop the blood pressure.
Because of this, vinyl gloves are an option for those suffering from latex allergy. They are made of polyvinyl chloride. It is a commonly used material in the production of gloves for protection.
Polyvinyl chloride is non-allergenic, making it a choice over gloves made of natural rubber.
 Inexpensive Options
If you're looking for affordable yet durable gloves, go for gloves made of vinyl. For instance, gloves made from latex and nitrile could almost triple in the price for vinyl.
Vinyl gloves are ideal for those who are looking for an order in bulk, so people who work in salons, as well as automotive mechanics, food processing tattoo shops, as well as plumbing services, can save money.
In addition, it's the very first material made of synthetic accessible to those who require gloves for everyday use.
Available in Powder-Free Options
If you do not wish to wear gloves that leave behind sticky residues You can choose non-powder vinyl gloves. This is ideal when working with adhesives and paint that is wet.
The gloves are made of plastic or chlorinated coating to provide a comfortable feeling when you wear or remove the gloves. They also include a beaded cuff base to stop tears or tearing on the wrist.
How to Choose Vinyl Gloves
There are a few things to consider when picking the proper gloves. In the beginning, you must take into consideration the type of use and application. Fortunately, this has been simplified by the system of grading and cutting-resistant level of the gloves.
For the right size, you must make use of a size chart to determine which size is suitable for your hands. Also, it is worth measuring the hand size in case you're not sure.
Vinyl is available in many colors to suit industrial and medical applications. Color codes are also employed to distinguish sizes and stop cross contamination.
For example, in the case of food handling situations, gloves made of blue may be used to handle chickens while clear gloves are typically advised for handling vegetable products.
The most commonly used colors used for vinyl are blue, black, and clear.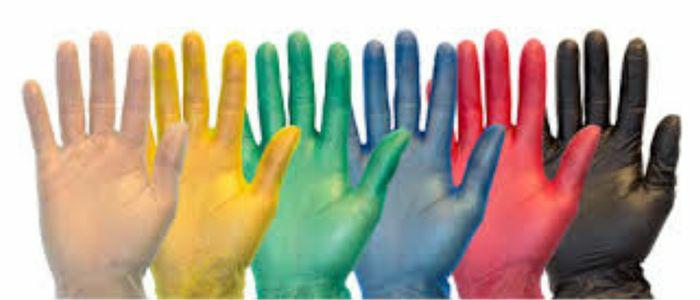 Can You Put Hair Dye on Without Gloves?
To be clear It's true that you can. But the fact that you can does not mean that you must. Gloves not only protect your hands from getting stained by dye, but they also shield your skin from irritations and burns caused due to chemicals in the ingredients.
The act of coloring hair with gloves on is not advised. Wear disposable gloves for hair stylists while mixing hair colorants and applying them to your hair. Be aware that wearing gloves made of latex when coloring hair can result in an allergic reaction to latex. If you're a sensitive skin, we recommend Nitrile gloves instead.
When you apply color to your hair, without protection, chemical compounds could get into the skin. In this case you could suffer from allergic reactions such as itching, rashes and sensitization.
Can I Use Different Rubber Gloves to Dye Hair?
I've said it before and I'll repeat it simply because you are able to not be a good person, it doesn't mean that you must. Numerous studies and experiments have examined different kinds of gloves as well as their effectiveness when they come into contact with hair dye. From rubber latex, polyethylene, vinyl, and Nitrile gloves, all of them aside from nitrile were found to not be effective in stopping contact skin irritation.
In addition, these three kinds of materials fail in protecting skin, but they also resulted in eczema-like skin irritation after contact with hair colors. Additionally, wearing latex rubber gloves when coming into contact with harmful dye chemicals could cause an allergic reaction to latex.
To avoid any skin irritation, no matter if you are prone to skin irritation or not Nitrile gloves are the only tested product to use safely when you want to spice up your appearance.
What Are the Best Gloves for Hair Dye?
According to the study mentioned prior to this piece, most effective gloves to dye hair are Nitrile. Latex, polyethylene and vinyl gloves could produce adverse effects, including contact allergy and skin problems. Additionally, disposable gloves used that are used to apply hair dye should not be reused in order to avoid allergic reactions to skin.
If you have to deal with hair dyes that are harsh the durable Nitrile gloves are the best choice. Making use of any type of gloves used to color hair isn't advised.
Summary:
Vinyl gloves are multi-purpose that can be used for many uses. PVC is considered to be an affordable alternative to rubber.
Today, manufacturers include the use of plasticizers and elastomers in their gloves in order to provide them with the feeling of rubber. They are therefore excellent choices for people working in areas with high costs like hospitals and public facilities.
Make sure you spend time to weigh your requirements prior to selecting the appropriate gloves.
Contact us for any queries or want to request a quotation. Our specialists will provide you with an answer within 24 hours and assist to select the appropriate PPC equipment you need.