Hebei Shouzheng's Silicone dishwashing gloves are manufactured with high-end food-grade silicone that creates a great cleaning partner. They safeguard the skin of your hands and shield it from exposure to harmful chemical as well as the corrosive liquids. The fingers and palms on the gloves lined with bristles made of silicone that removes stains quickly, provides a firm grip, and even get into tiny cracks to ensure solid scratching. The anti-bacterial, non-absorbent gloves don't hold dirt, grease, or any odors that are unpleasant and are ideal for use in everyday life!
For those who are sensitive to soaps, detergents and liquid detergents use these dishwashing gloves made of silicone. Use these gloves when you are having difficult times. Don't let yourself become affected when you wash the dishes. If you want to keep your house tidy, you need to find the right products that can help. It would be better to find items that make the task simpler. With these gloves for dishwashing, you'll have useful to keep your kitchen neat and neat. Naturally, you'll be amazed at the fact that it saves you the time as well as effort. It is a combination associated with a dishwashing sponge as well as rubber gloves. Make use of this dishwashing glove made of silicone, it can keep your hands safe when you clean dishes.
Multifunctional, reusable and simple to use.
Silicone dishwashing gloves are pliable and cannot be easily deformed. They are reusable, practical and adaptable. Additionally, the gloves are not just to wash dishes as well as to clean other items. You can use them to clean your car, wash pets and also keep tiles in good condition. Additionally, you can use it to clean vegetables and fruits. If you've got the right gloves, washing shouldn't take too long. There are a lot of things within the house that require cleaning. For each chore it shouldn't take much time to complete it. In addition, you'll have other things to complete apart from washing and washing your dishes.
Silicone dishwashing gloves are appropriate for both women and men. Additionally, these gloves can be used to replace sponges and gloves to provide better hygiene in the kitchen. Take it home and discover how easy it is use.
Silicone dishwashing gloves are an extremely common silicone item used in everyday life. For instance, when making cakes, bread, or cookies and other baked goods, we can't do without an oven, however the temperatures of the oven following work is extremely high, it's difficult to get rid of manually, hence the function of silicone gloves is evident. What exactly is a silicone glove? Hebei Shouzheng can tell you!
Silicone gloves product characteristics
The Hebei Shouzheng's silicone dishwashing gloves are made of premium and food-grade silicone. They are Anti-bacterial and BPA Non-toxic and safe for skin No deformation, no residues, tear resistance.
The silicone dishwashing gloves are able to withstand temperatures of up to -40-160 degrees, that can be used to transport hot dishes around or keep oven dishes in place.
And using silicone dishwashing gloves make it easy to wash the brush. you only need to rinse the brush with water or place it into the dishwasher and there will be no residue as compared to traditional brushes, they don't take up water.
Silicone dishwashing gloves can be used to clean the bathroom, the bed room and pet hair, or cleaning up dust on wardrobes. They are also useful in the kitchen for cleaning up vegetables and fruits and washing dishes.
The color of silicone dishwashing gloves. The market is determined by the classification of Pantone color card. Pantone color card. It is achieved through the production process of mixing colors. The method used is following the formula for color to mix a range of colors pastes for use after which it is put into the silicon raw material at a particular proportion.
What's the benefits of using silicone dishwashing gloves?
The first step is to use silicone dishwashing gloves to avoid sliding. Many people will scrub the bowl after dips into the detergent or slipping their hand unintentionally, and then the bowl's hands are smashed and then to clear the debris everywhere. This can affect the overall mood . wear these silicone gloves for cleaning dishwashing glove that is capable of holding on tight. In contrast the silicone material and the skin of the body has an extremely large sliding friction. This holds the bowl and the plate will be securely within the hands, don't have to fret about slippery hands, and the plate and the bowl won't break.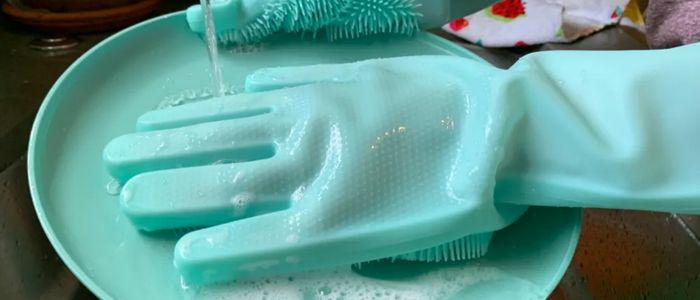 Second, easy to foam. Dishwashing gloves made of silicone in the palms of hands with a full section of soft, sting and contrast of the sponge that causes the area to be larger when compared to the towel, which is the same detergent that is caused by the larger volume of air bubbles, making the rubbing with a more comfortable. These silicone gloves, with a small amount of detergent, produce greater foam and cleaning power is more powerful, thereby reducing costs for cleaning dishes, as well as reducing the use of gas.
Third, heat preservation and heat insulation. Since its silicon dishwashing gloves, they are not just for cleaning dishes. The choice of thermal insulation and silicone isolation of materials of gloves, are also suitable for what kind of environment. Heating with microwaves regardless of microwave food or birthday cake in the electric oven is easy to remove so that you do not have to worry about foods that are that are hot. Hands or towels still feeling hot discomfort. Overall, dishwashing silicone gloves are a great way for cleaning the bowl, baker's cooking soup and hot pot restaurant transporters. It is easy to use, and makes the plate with more security.
Fourth, there are usually falling straight, long hairs on the floor of your wooden home. You will see hairs of animals left on the sofa's fabric dust, and even collected on the shelves cleaning gloves made of silicone are spiky and are able to easily scoop the tiny objects up in addition to Cisterns, floor tile and fusion of blisters that are easy to break. With silicone gloves, carefully wipe the wipe that will get rid of dust. You are also then able to use silicone dishwashing gloves to wash the fruits and vegetables that are deposited at the base of the silt rub, then clean it up.
Five, life insulation, antifreeze-related silicone dishwashing gloves are required It is an environmentally sustainable silicone. Different from conventional gloves that provide warmth to hands and a protection, silicone gloves' function primarily in heat insulation as well as anti-burn. Ideal for kitchens at home and the cake baking industry. The process of manufacturing is high temperature vulcanization with hydraulic press.
Wide Application: Silicone dishwashing gloves made of silicone are completely safe and environmentally friendly. Use it to use it for washing dishes, fruits and vegetable cleaning, bathroom and kitchen cleaning, taking off dust from wardrobes and pet hair, car washing Etc.
With HBSOSUN's silicone dishwashing gloves, you can put down brush and sponges that are used regularly, and enhance your kitchen hygiene while safeguarding your hands.
7 Ways To Use Silicone Dishwashing Gloves
Just slip on your gloves, sprinkle a few drops of dishwashing soap, and an ounce of water and then rub your hands to form a rich lather. You'll be ready to tackle the kitchen sink in no time. And as I've mentioned earlier it's so simple, you'll be able to even enjoy it!
Make sure you put those scrubbing bristles make use of them by scrubbing your countertops! It's possible to apply a bit of pressure to remove caked-on messes however, you can be at ease knowing that the soft silicone will not scratch or scratch even the most delicate stones countertops.
Wear these gloves and some water to get rid of the waxes and pesticides which typically remain on cucumbers, apples, and other vegetables and fruits. (For an additional boost in cleaning you can add one drop of essential lemon oil to the water you rinse.)
It doesn't matter if it's a shower enclosure or the floor in your kitchen the grimy tiles are no suitable for these silicone scrubbing gloves paired with my potent Shower cleaner that you can make yourself!
Apply the cleaner onto your tile and wait about a half-hour and then use gloves to scrub off the grime and gunk. Rinse thoroughly, and take pleasure in admiring the sparkling tile floors!
The slightly tacky silicone exterior of these gloves is ideal for taking off the papery skins of onions and garlic! Simply roll the onion or garlic cloves around your hands to remove the outer layers fast and effortlessly.
When it's time to clean the car there is no need to be slaving away for hours at the impossibly stiff splatters of bug splatters and dried bird pee! These scrubber gloves will make quick job of the tough mess even a trip to the car wash won't remove.
In the end, Silicone dishwashing gloves are among the most commonly used silicone kitchenware items, which is the benefits of being odorless, impermeable, simple to clean and high temperature resistance, but are extremely effective in protecting the furniture's surface of furniture from destruction.